Out of my Mind – Sharon Draper's Compelling Young Adult Fiction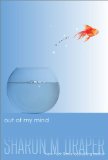 Out of my Mind written by Sharon M. Draper
Young Adult Fiction published by Atheneum Books for Young Readers
Sharon Draper's Out of my Mind is one of the best young adult fiction books I have read. For weeks, I have been reading blogs, websites, and articles about young adult fiction. The key words that keep popping up are 'high stakes.' In today's fast-paced, socia media driven society, it is hard to capture attention. Your book has to be different; it has to stand out, or reach out and grab you. I thought I understood what was meant by the term 'high stakes' because I've read many YA novels and countless adult novels. It means you care about what happens next and you are connected to the characters.
When I got to the third to last chapter of this novel, that my class and I were already hooked on, I truly understood what high stakes means. It meant that, even though the bell had rang, even though they wanted lunch and so did I, even though everyone looks forward to the break in the school day, not one of us wanted to stop. We were frozen by the words on the page; we were so actively involved that no one wanted to move. But we had to. Kids had committments to help in classes, I had a meeting, and other kids were helping in the library. High stakes means that I was late for my meeting, because even though I couldn't keep reading to them, neither could I walk away. I had to finish it. So I did.
This book already had the readers' attention at page one. A young girl, Melody, talks about how she's got all these words floating in her head and they're this beautiful, abstract thing, that anchor her. She describes them as snowflakes, each one different and delicate. What a beautiful description. But the kicker, is when she says that, at 11 years old, she's never said even one of those words. Melody has cerebral palsy. She cannot talk, walk, feed herself, or take herself to the bathroom. Sharon truly gets inside, not only the mind of this extremely, physically challenged girl, but the average grade five mind as well. Melody has all of the same challenges that regular grade fives have; what to wear, do I have friends? did I get the answer right? why don't my parents understand? my little sister bugs me. What we see, in Out of my Mind, is how she connects with that world with extreme limitations. Her ability to do this connects us to her, it invests us in the story, and it makes us part of Melody's world.
We spend a lot of time discussing bullying and how to treat others in elementary school. More and more, it has become a focus. We try to teach kids the different types of bullying, how to stop it, and how to recognize it. We try to make them empathetic by imagining how the victim feels, how the bystander feels, and even what the bully feels. This book gives us such a unique view of bullying. What if you could never respond to the bully? Never stand up for yourself? Never defend your friends? What if you were bullied and people didn't even realize that you fully understood their cruelty? It's one thing for a child to 'not be seen' but Melody's circumstances take this to an entirely different level. It made my students more aware of the fact that how a person looks does not define who they are inside. The book stopped being about a girl in the same grade as they are with physical challenges; it became about Melody, this kid like them who was fighting not to get left out and fighting to be heard. She just had to fight harder than any of them have ever had to.
For me, it showed me what high stakes really mean. It means when you're so invested in the character that you forget they're not real. You see those characters in the people around you and the lessons you learn from them make you better. My students loved this book. I loved this book. What amazed me most was how, I started reading it to them, thinking it would never be okay for Melody because she was so physically and verbally limited. But in the end, that was not what mattered at all. I stopped seeing her limitations and was amazed by the strenth and courage and sense of character that she possessed. Sharon Draper was able to do all the things an author should do: she drew me in, she made me feel both Melody's triumphs and heartaches. She made me part of Melody's world and in turn, that beautiful strength of character, will hopefully, be part of my world and my students the next time any of us begin to judge a book by its cover.
Out of my Mind at Amazon.com
Out of my Mind at Amazon.ca
Sharon M. Draper's website answers thirteen questions about Out of my Mind.
Out of my Mind was awared the Josette Frank Award by the Children's Book Committee of the Bank Street College of Education and was chosen as a 2011 IRA Teachers' Choice Book and a 2011 IRA Young Adult's Choice. It was the Best Book of the Year from KIRKUS and an Outstanding Children's book of 2011 by Bank Street College. It won the Buckeye Children's Book Award from Ohio, the Sunshine State Young Reader's Award in both the middle school and elementary categories, the Black-Eyed Susan Book Award from Maryland, the Beehive Book Award from Utah, and the Virginia Reader's Choice Award. It received the SAKURA Medal – English Chapter Book category .