Finding the perfect bedtime story can make all the difference as toddlers and preschoolers settle down for the night. In this post, we have a look at some delightful bedtime-theme children's books that will set the tone for a good night's sleep. In the comments, we hope you'll let us know about your favorite books for bedtime!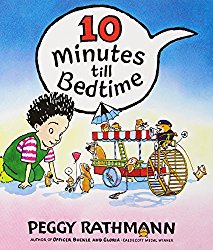 10 Minutes till Bedtime written and illustrated by Peggy Rathmann
Mostly wordless picture book about bedtime published by G.P. Putnam's Sons Books for Young Readers an imprint of Penguin
In this classic, fun picture book, Dad cautions his son that it is 10 minutes till bedtime. Within a moment, a pet hamster has summoned other neighborhood hamsters to stop by for ten minutes of fun. Preschool-aged (and older) children will enjoy the detailed and engaging illustrations that tell most of the story. Of course, the joke is on Dad as he has no idea what is happening behind his back, as his son gets ready for bed. Good fun and a great opportunity for language and comprehension development. Carefully 'reading' the illustrations and talking about what is happening is a big part of this bedtime story.
10 Minutes till Bedtime at Amazon.com
10 Minutes till Bedtime at Amazon.ca
---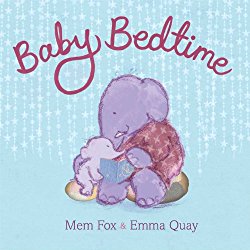 Baby Bedtime written by Mem Fox and illustrated by Emma Quay
Rhyming toddler picture book about bedtime published by Simon and Schuster
Soft tones and sparse, rhyming text are hallmarks of this gentle picture book about a baby elephant's bedtime. Cuddling and smiling, an adult elephant takes a baby elephant through a bedtime routine (including a story!) before finally saying goodnight.
One of the really lovely aspects of this picture book is that the gender and age of the adult elephant is not specific. This could be a mom, dad, grandparent, aunt or uncle putting the youngster to bed.
Baby Bedtime at Amazon.com
Baby Bedtime at Amazon.ca
---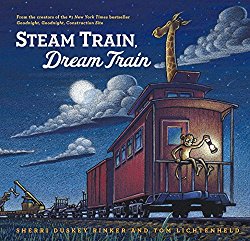 Steam Train, Dream Train written by Sherri Duskey Rinker and illustrated by Tom Lichtenheld
Rhyming children's book about bedtime published by Chronicle Books
Wonderful rich vocabulary and onomatopoeia make this a wonderful bedtime story for preschool-age and older children. Children who are interested in trains, will enjoy hearing the names of the various cars (hopper, tender, reefer, gondolas etc.) and will hear the rhythmic text that echoes the sounds we associate with steam trains.
Set in moonlight, Mr. Lichtenheld's illustrations, created with wax oil pastel are beautifully atmospheric. We especially liked the train's arrival and the child's moonlit bedroom.
Steam Train, Dream Train at Amazon.com
Steam Train, Dream Train at Amazon.ca
---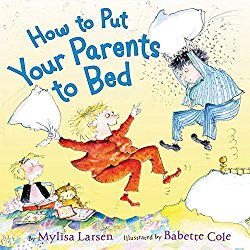 How to Put Your Parents to Bed written by Mylisa Larsen and illustrated by Babette Cole
Fun picture book about bedtime published by Katherine Tegen Books, an imprint of Harper Collins Publishers
Preschool-age and older children will enjoy the humor as a young girls tries to get her parents to go to bed. Chores, a computer, games, television and even cell phones are delaying mom and dad's bedtime but, with determination, it is possible for her to get them settled and off to sleep.
Older children, especially those who resist shut-eye, will see themselves in this fun role-reversal tale.
How to Put Your Parents to Bed at Amazon.com
How to Put Your Parents to Bed at Amazon.ca
---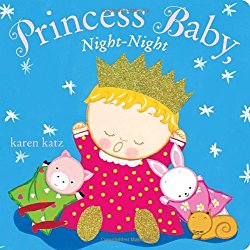 Princess Baby Night-Night written and illustrated by Karen Katz
Picture book about getting ready for bed published by Schwartz and Wade, an imprint of Random House
Getting ready for bed can be an exhausting proposition. Princess Baby has lots to do. She not only puts her own pajamas on, she dresses her six special friends for bed too. She also helps with washing up, brushing teeth and selecting stories.
Bright, beautiful collage illustrations make this a great story to share in a group setting. Fans of Princess Baby will want to explore Princess Baby
and Princess Baby on the Go
.
Princess Baby, Night-Night at Amazon.com
Princess Baby, Night-Night at Amazon.ca
---