Good Little Wolf by Nadia Shireen will charm young readers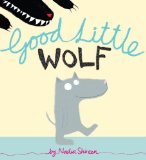 Good Little Wolf written and illustrated by Nadia Shireen
Picture book published by Alfred A. Knopf, and imprint of Random House
"It is madness for a sheep to talk of peace with a wolf" ~ French Proverb
Rolf is happy to be a good little wolf. He's helpful, he's a vegetarian, he likes to bake and he's a good friend to pigs and Mrs. Boggins.
Rolf hopes he won't ever encounter a bad wolf but, one day, when he is out walking in the woods, he meets the renowned Big, Bad Wolf. Big, Bad Wolf is quite dismayed at Rolf and his good behavior. Big, Bad Wolf expects wolves to howl and destroy houses and eat people.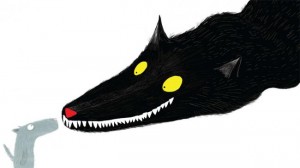 Big Bad Wolf challenges Rolf to be a "Real Wolf" and the good little wolf decides to give it a try. After a couple of disasterous attempts, Rolf discovers his inner 'badness' and proudly demonstrates his newfound abilities to Big, Bad Wolf.
Success demands a celebration and before long Rolf, Mrs. Boggins and Big, Bad Wolf are enjoying a delicious meal together.
Alas, author/illustrator Nadia Shireen is not content with happy endings. Big, Bad Wolf has one last wicked trick to play…
Fans of I Want My Hat Back will delight in Good Little Wolf as will those who have enjoyed Mind Your Manners, B.B. Wolf and Tell the Truth, B.B. Wolf.
Good Little Wolf will be enjoyed most by children who know the story of Little Red Riding Hood and the Three Little Pigs. It most certainly will prompt discussions about "good" versus "evil" and whether a leopard (or wolf) can change its spots.
Simple, charming illustrations are a perfect match for both Rolf's loveable personality and Big Bad Wolf's nastiness.
Good Little Wolf at Amazon.com
Good Little Wolf at Amazon.ca