Who Knew the Big Bad Wolf Has Good Manners?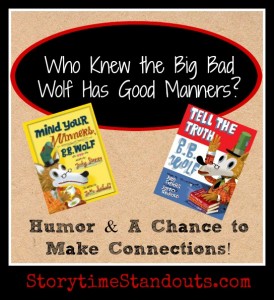 Storytime Standouts writes about two picture books written by Judy Sierra. Both books are fantastic and present a wonderful opportunity for readers to make connections with other classic stories.
Mind Your Manners, B.B. Wolf written by Judy Sierra and illustrated by J. Otto Seibold
Picture book for older readers published by Knopf Books for Young Readers
When B.B. Wolf is invited to the local library's Storybook Tea, he reviews proper etiquette, dons a dapper jacket and promises good behavior. After three cups of tea, a gurgling tummy threatens but Mr. Wolf remembers to say, 'Excuse me,' and is congratulated for his extraordinarily good manners. This picture book is a delight and I rank it among "The Best of the Best." Youngsters are sure to enjoy spotting familiar fairy tale characters including Little Red Riding Hood, the Gingerbread Boy and the Three Little Pigs in addition to the Big Bad Wolf. It is indeed a treat to discover that Mr. Wolf has retired to Villain Villa and that using good manners can lead to happy endings.
Mind Your Manners, B.B. Wolf at Amazon.com
Mind Your Manners, B.B. Wolf at Amazon.ca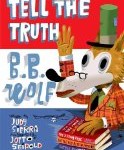 But wait, there's more… Tell the Truth, B.B. Wolf is an equally delightful tale featuring our "favourite" fairy tale villain! When invited to give his version of very familiar events, his credibility is soon called into question. Bold, retro illustrations compliment both stories beautifully.
Highly recommended – especially for older children.
Tell the Truth, B.B. Wolf at Amazon.com
Tell the Truth, B.B. Wolf at Amazon.ca