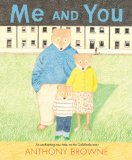 Me and You written and illustrated by Anthony Browne
Picture book published by Farrar, Straus and Giroux
Shortlisted for the 2011 CILIP Kate Greenaway Medal, Me and You is a thoughtful and thought-provoking look at the story of Goldilocks and the Three Bears.
While on a rather boring outing with her mom, Goldilocks is distracted by a floating balloon. She follows the balloon but can't quite catch it. Separated from her mother, she finds herself in a dark and dismal part of town, characterized by foreboding brick walls, cracked windows and narrow alleyways.
Meanwhile Baby Bear, Mummy Bear and Father Bear have decided to go for a walk while their morning porridge cools. They leave their sunny-yellow house and head to a nearby park.
"Daddy talked about his work and Mummy talked about her work. I just messed about."
Beautifully illustrated,Me and You depicts Goldilocks' experiences (wordlessly) in tones of gold and sepia. Baby Bear lives in a decidedly cheerier, more colourful world.
Highly recommended for children who are familiar with the story of Goldilocks and the Three Bears. Me and You offers many opportunities to make comparisons and consider perspective.
Suggested visual literacy activity for Me and You from CILIP Carnegie & Kate Greenaway Children's Book Awards site
Me and You at Amazon.com
Me and You at Amazon.ca
Our page about Wordless and Almost Wordless Picture Books