Journey of a reluctant reader. Two weeks, three books, one closet reader

If you ask Johnny if he likes to read, he'll say no. He's been honest from the start; reading is not his favored choice of activity. I too have been honest with the class; they know that my goal is for Johnny to love books. Of course, all of my energy is not focussed just on him. In fact, being in the Library with my students is one of my favourite weekly activities. I pour through the shelves with them, asking them about their choices, finding books from my childhood, and reading the summaries of new books that my students might enjoy. The students know that reading is more than just an important skill for me to teach them. I think they really get the idea that, to me, reading is the portal to so many other great things~characters, places, struggles, triumphs, memories, and lessons. They also know that I am just persistant enough to keep harping at them about how powerful books can be in their lives.
So what I'm saying is: they humor me. They let me show them all the books I think they'd like; they even say they'll try them and return them quietly on their book exchange day. And I adore students for their willingness to please their teacher by trying something new. However, I'm feeing quite triumphant this week because not only has Johnny chosen three novels in the last couple of weeks, but the other students have joined my quest to hook him on books!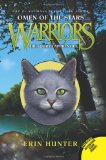 Walking by Johnny's desk today, I noticed a Warriors book, a favourite among many of the students I have taught over the past few years. I tried to hide my excitement as I asked, "What is THIS?". He laughed and shook his head and said, "I'm just trying it". His friend, who also took out this book responded, "Ya, we're reading the kitty books together". Yet another friend said, "That's because of me! I told them to read those books so they are. We told them how good they are". So I realized that two hugely exciting things are happening and I'm not sure which one is better. Johnny is choosing to read, without any prompting on my part and secondly, our sense of community is coming together so well, that they are pushing each other for better things. It's not just that they're recommending literature or following through with a peer's book recommendation. It's the fact that they care about each other enough to share their interests, to listen to each other, to take advice from one another, and to push each other forward in a positive way.
Today is one of those days where I am so grateful to be a teacher. Some days I get caught up in all of the sadness that exists around us and days like today remind me of all the goodness that is right in front of us. Kids are amazing.