Journey of a Reluctant Reader…Giving Small Steps a try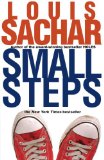 We found another book this week and once again, I found myself being thankful for sequels. My reluctant reader, Johnny decided to give Small Steps by Louis Sachar a try this week. Knowing that he loved Holes enough to read it twice made it an easy suggestion. He easily agreed to give it a try. I find that even as an adult, I love books that connect and carry on. When you really love a book, chances are you really love the characters. When you love the characters, you want more. You want to know what happens to them and to their friends. Sequels make this possible. There's a comfort, for me at least, knowing that even if the end of a book is coming (which always makes me a little sad if I'm really enjoying it) there is another one to follow that will update me on what's happened to those characters.
Though every series can't be Harry Potter, which allows us to follow much beloved characters for years, it's wonderful when there's at least a second. Lemonade War offered this with Lemonade Crime. Holes is followed by Small Steps. Then there's other series, such as Ramona, which is followed by many books about her family, adventures, and friends. Series of Unfortunate Events, Fudge, Warriors; there are too many to list.
I think for "reluctant readers", like Johnny, sequels are a critical component of 'keeping them hooked'. His willingness to read allows for him to get attached to a character and the sequel keeps him coming back and keeps him reading. Often, it's what keeps me reading.
So for now, I'm really happy with how Johnny's journey is going.  He may be reluctant to choose the activity (although this is becoming less true), but he's reading. In the end, whether it's sequels, Harry Potter, comic books, or the newspaper, we just want them reading.
We'll see where Johnny's journey takes us in the new year.