Journey of a Relutant Reader…The Chosen One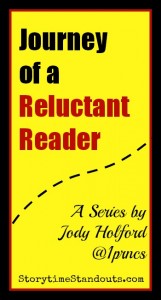 In one of my summer posts, I talked about how I love the challenge of finding that "one" student who is NOT a reader. The student that can read, but would rather not; the one that doesn't make an effort to engage with the text; the one that feels there are far better ways to spend time than reading. In the second week of September, I found my student. He laughed at the shock on my face when he muttered the words "I don't like reading". I decided to tell him that he was my new project and explained to him how I'd like to change his mind. His response? "Good luck" he said. I have plans and ideas, and surprisingly, I've already made some head way. So these posts will be a little different; these will be about his journey, and mine, as I try to change his mind about the world of reading. Some of my ideas might work and others might not. I'll happily take suggestions if you think of something that might further engage him. I thought it would be very informative to track his progress and attitude throughout the year. Obviously, my hope is that his journey will lead him to finding the joy in reading. These posts will be slightly shorter, as I will basically "journal" about my efforts and his responses. When he told me he didn't like to read, I thought it might be informative, if not entertaining, to see where his journey takes us.
So, the Chosen One? We'll call him Johnny because obviously I can't use his real name and Johnny seems to be the go-to name in nursery rhymes, references to school, and in basal readers. To give you a little bit of background, "Johnny" was tested yesterday and is currently reading at a grade level of 7.7 in grade 5. There is nothing, academically, stopping him from reading. Before I had him take the reading test on the computer, I had done my own reading assessment and knew he was at the higher end of the spectrum. He's a good kid. He can be chatty, but since my last post was on the benefits of oral language, I can't really complain too much there. What I really like about Johnny is that he knows I'm going to try to change his mind about reading. He won't try to stop me, but he'll be honest about how he feels too. He's got a good sense of humor. When he told me he had started a Christmas List already, I asked if he had books on it. He replied in a deadpan voice, "Yes. That's my whole list. Just a bunch of books". Back in week two of school, when I had thought about this project, I had Johnny humor me and I interviewed him.
Me: Why don't you like to read?
J: It's boring
Me: But what if the book is really good? Then it's not boring.
J: Well, then I can read it.
Me: You laugh when I'm reading. Do you like our read aloud book? (We are doing Fudge-a-mania by Judy Blume)
J: Ya. It's funny.
Me: Do you like funny books? You like humor?
J: Funny books are good. I like that one.
Me: What else do you like to do?
J: Anything
Me: Except read?
J: (laughing- I suspect AT me) Ya.
Me: What if mom said, go to your room and stay there for a while? What would you do to pass time?
J: Go to sleep.
Me: Will you let me try to change your mind about reading?
J: Okay
Me: You know I'll change your mind right?
J: Okay. Good luck with that.
Hopefully you'll join me and Johnny as I try to reach my goal.