We have a special affection for wordless picture books and books that explore bullying themes. Bluebird does both.
Check out our page about other Wordless and Almost Wordless Picture Books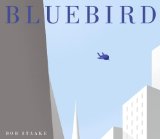 Bluebird created by Bob Staake
Wordless picture book published by Random House Children's Books
A small bluebird flies through a city, past an apartment building and toward a school. The bird perches in a tree and watches as a young boy approaches the school. Unlike the other students, he walks alone with his eyes turned downward. Whereas other children chatter happily with their friends, he is slow to walk into his new classroom and take his place. Once he is seated, two classmates laugh and point. For some reason, he is a lonely outcast and the object of ridicule.
The hours tick by and, when the boy leaves school, he is surprised when the friendly bluebird initiates a friendship. The bird chirps at him and follows him through an urban neighborhood. They play hide and seek, they share a cookie, they watch as a group of children play soccer and they arrive at a park where the boy floats a sailboat in a pond. There is time for happy daydreaming and exploring before their adventure takes an ominous turn. The boy and the bird approach a wooded area and are soon met by three miserable bullies. One wants his toy sailboat and, to add force to his threats, he throws a stick, hitting the swooping bluebird. As the violent bullies run from the scene, the bereft boy stands, holding the injured bird.
Highlighted by light blue, grey and white Adobe Photoshop-rendered illustrations, Bluebird is best suited to children aged five and up. With an ending that is open to interpretation, the author-illustrator leaves many questions unanswered. The boy is very much a solitary figure, we don't know why he is on his own in a large city. We also don't know why he is ridiculed by his classmates and bullied by the children in the park. This is not a story that satisfactorily resolves bullying rather it is a celebration of friendship. Young readers will have questions and opinions. They will engage in the narrative and, with encouragement, will think about the impact of bullying behavior.
Bluebird at Amazon.com
Bluebird at Amazon.ca
Check out our page about other Wordless and Almost Wordless Picture Books
Starred Reviews from
Booklist, April 15, 2013:
"Staake works out an impressive range of emotion… Without use of a single word, this book raises all kinds of simple profundities for kids to question, ponder, imagine, and discuss."
Publishers Weekly, February 25, 2013:
"…believers and skeptics alike will find something deeply impressive and moving in this work of a singular, fully committed talent."
Subsequently named a "Best Book 2013" by Publishers Weekly
Kirkus Reviews, March 15, 2013:
"Like nothing you have seen before."
Included in the Spring 2013 Great Reads from Indie Next List
Publisher's Weekly interview with Bob Staake
Bluebird has been nominated for a 2013 Children's and Young Adult Bloggers' Literary Award