Homemade Coffee Ground Playdough – Eco-Friendly Fun!
How to Make Coffee Ground Playdough! Use our Recipe to Recycle Coffee Grounds!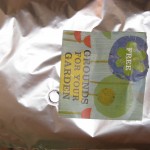 When presenting my workshops for teaching professionals, I often include using Fimo Clay
and rubber stamps
to make paperweights with special messages. While presenting Growing and Learning Green for the Early Childhood Educators of BC on Saturday, the idea of using (used) coffee grounds to make a play-dough-like modelling clay was talked about.
Earlier today, I stopped by Starbucks and easily obtained a large bag of used coffee grounds for free. Thank you Starbucks!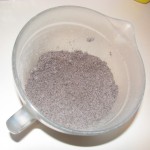 This evening I mixed together equal parts coffee and flour. I added 1/2 part salt and made sure the mixture was blended thoroughly. Once I was happy with the mix, I stirred in 1/2 part water.
If you were doing this, you might use the following:
3 C slightly damp coffee grounds
3 C All Purpose flour
1 1/2 C Table Salt
1 1/2 C Water
I did most of the mixing in a bowl and then kneaded it on some parchment paper. The consistency was great and the dough was relatively easy to manage. I rolled it out between two sheets of parchment paper and was able to use a small-ish cookie cutter and a larger biscuit cutter to cut out shapes.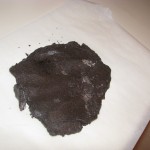 I was not successful when I tried to press a rubber stamp into the mix – bits of coffee seemed to cling to the stamp.
I have left two pieces of dough out to air dry and will check them in the morning. I froze the rest of the dough so that I can share it at my next Growing and Learning Green workshop.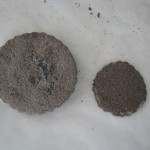 This is a picture of the playdough after air drying for three days. It feels quite solid and is not crumbly. The surface looks almost dusty.
If you have ideas about ways to reuse coffee grounds – I would love to hear from you!