In this week's Getting Ready to Read class we talked about letter B and some of the words that begin with b – bumblebee, blue, black, brown, baby, big, bag, bread, book, balloon, basket. We played a guessing game, the answers were items in my brown bag (a basket, a banana, a balloon, etc.)
We also played a game about opposites using words that indicate position (high, low, in front, behind, over, under).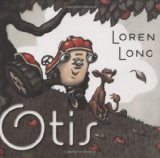 The story for this week was one of my favourites, Otis by Loren Long
Otis is the story of a small tractor who loves life on the farm. When a calf arrives in the stall next to Otis, he befriends the young cow. It is not long before they discover ways to play together in and around Mud Pond.
All is well until a shiny new tractor arrives to work on the farm. Sadly, Otis is parked behind the barn and the new, larger tractor goes to work.
When the little calf gets stuck in Mud Pond, the farmer frantically looks for some way to rescue her. Thankfully, Otis responds when everything else fails and, with hard work and determination, Otis rescues his friend.
Fans of Mike Mulligan and His Steam Shovel will thoroughly enjoy this gentle story about friendship.
Otis at Amazon.com
Otis at Amazon.ca
In this week's Beginning to Read class we played an alphabet recognition game, I call Boom. It is a fun way to review letter names quickly.
We also spent quite a lot of time, talking about rhyming. Learning about rhyming and recognizing rhyming words enhances your child's phonemic awareness. We played, making silly rhymes with our names and talking about rhyming words.
Our word family today was the "-all" family. We began with the /all/ sound and added different sounds to it, in order to make words. We made ball, call, fall, hall, mall, tall, wall. Once we had finished playing with sounds, we used letters (b, c, f, h, m, t, w) to change "all" into ball, call, fall, etc.
Having opportunities to blend sounds together and make words will assist your child. When you are in the car or waiting in a lineup, ask your child to blend the /S/ sound with /AT/. Help your child, /S/…… /AT/. If your child can't figure out the word, bring the sounds closer together /S/…./AT/, and closer… /S/ /AT/ – until your child realizes the word is "SAT."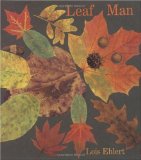 Our story today was Lois' Ehlert's beautiful tribute to fall leaves, Leaf Man. This is a wonderful story to share at this time of year. The beautiful die cut illustrations are a wonderful inspiration for young artists.
Leaf Man at Amazon.com
Leaf Man at Amazon.ca
Teach Preschool's teaching ideas for The Leaf Man
Harcourt Book's teacher guide for The Leaf Man