In today's Getting Ready to Read Class, the letter of the day was 'D' and our theme was "Dinosaurs."
The children knew some words that begin with /d/: dog, duck, doghouse, diamond, Dad (and Daddy), dig, doll, dragon and more.
We played "Simon Says." Most of the children understood that "Simon Says" is a listening game. The key with "Simon Says" is to listen carefully. If the leader says, "Simon says do this," then you do go ahead and do the same thing. If the leader just says, "Do that," then you should not copy the leader. You should stand still until the leader again says, "Simon says do this."
We also played around with opposites. Almost all of the children know that hot is the opposite of cold and up is the opposite of down. In today's Getting Ready to Read class we tried some trickier opposites: cool (warm), early (late), tall (short), ending (beginning).
Today we also explored rhyming words: fish, wish and dish, fan, man and pan. Learning about rhyming words helps your child to develop "phonemic awareness." You can find more information about phonemic awareness here.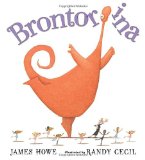 Today's Getting Ready to Read story was good fun. We read: Brontorina by James Howe, illustrated by Randy Cecil
This lovely story is about Brontorina Apatasaurus. She is just as large as you might expect but nonetheless dreams of becoming a ballerina. Unfortunately, Brontorina does not fit into Madame Lucille's dance studio and she does not have ballet slippers. Undeterred, Brontorina attempts to join in the class. She follows all of Madame Lucille's instructions and even pops her head through the dance studio ceiling. Fortunately, small challenges are not enough to deter our heroine and, with a little bit of problem solving and creativity, Madame Lucille finds a way to accomodate her.
Brontorina at Amazon.com
Brontorina at Amazon.ca