A Book Giveaway & Easy Green "Actions" For Families To Try Together!

April 22nd, 2011 is Earth Day and the perfect opportunity to discover E is For Environment Stories to Help Children Care for Their World – at Home, at School, and at Play. Written by Ian James Corlett and illustrated by R.A. Holt, E is For Environment introduces all sorts of "green" actions for children and families to embrace.
We are delighted to share this guest post by Ian James Corlett and invite you to enter our contest* and win a copy of E is for Environment
Oh Canada. Famous for toothless hockey players, ice cold water, and children's entertainers like Raffi. This is a story that combines them all… seriously! Well, maybe not toothless hockey players, but teeth anyway!
Remember the Raffi song lyric, "We brush our teeth, chh-chh-chh-chhh… chh-chh-chh-chh-CHHH!" That was a rallying cry in our house when our kids were small. With the help of Raffi, his catchy lyrics and his substantial beard, our kids learned a great routine to keep their teeth clean. They'd turn on the tap, squeeze out waaay too much toothpaste and then stumble through scrubbing each little tooth. All the while, the tap was running, and running and running… And we all do it. Turn on the tap, start brushing our teeth, possibly even walking around the house a little while we look for socks or a towel or even plunk down on the porcelain, and all the while… woosh, woosh, woosh, the water rushes down the drain.
Now, it is awfully cute watching the kiddies learn how to keep their chompers white, but all that water going down the drain made me think. And I wondered just how much water goes down that drain… Well, it's A LOT! Let's assume only one person in 100 in the USA leaves the tap on while they brush (and we all know that far more than one in a hundred do it). Over the course of a year that adds up to over TWO BILLION gallons of water just going down the drain! Just from tooth-brushing!
When you stop to think about how much it costs our governments to provide clean tap water it really makes sense to conserve as much of it as we can. Not to mention that fresh water is rapidly becoming a diminishing commodity!
After I learned that, we had a family meeting and decided to implement a "turn off the tap while brushing" bylaw. It's kind of fun too, because the young ones get to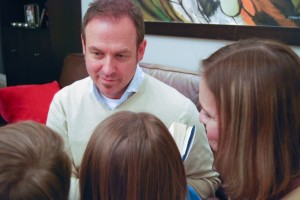 enforce the bylaw on the parents. (kids love policing mom and dad don't they?). Just like brushing to the Raffi song, you'll be amazed at how quickly these things become good habits with kids.
Another fun family energy-reducing action is searching for energy vampires. Energy vampires are appliances and gizmos that suck energy, mostly electricity, from your home. Did you know that all those power adapters or "wall warts" we have plugged in all over the place are robbing electricity even if nothing is connected on the other end? Yup. And all those little red lights you see on so TV's and other gadgets are also energy vampires. So get the family together and go on a hunt! Give everyone a scrap of paper (like a junk mail envelope) and scan your whole house to find these little suckers. Of course you can't unplug all of them (Dad needs to DVR his favorite shows!) but you'll be amazed at how many you find that can be unplugged.
How about grocery shopping? Have you noticed just how many shopping bags are clogging up your cupboards? If that's just at your house, There are BILLIONS clogging up oceans and land fills every year. So next time you're shopping and the clerk asks, "Paper or Plastic" have your kids pop up and say, "NEITHER!" Put your kids in charge of remembering to bring your own reusable bags. It'll give them a sense of responsibility and help our environment too.
Lastly, here's an idea that is not only good for the planet, but good for our bodies too! Think about all the short trips we make every week. Like to the post office, or the grocery store or school. If it's under a mile, walk it. Get out a map with your kids… wait, who are we kidding… search up Google Maps, and mark your house on it. Then look at all the shops and services you regularly drive to that are within a mile. Then try walking to these places instead. Especially with your kids. Walking with your kids is not only great for your health and the planet's health (one less car) but it's a great opportunity to bond too!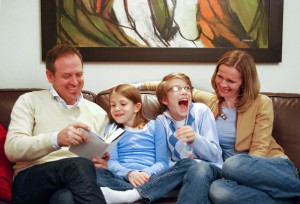 Trying these small steps (or actions) can be a lot of fun especially if you tackle them as a family. Sooner than later these actions will turn into good habits and make our world just a little bit better. Hey, maybe there's a new Raffi tune in there… "Reduce your waste, wah-wah-wah-wah-wasste, waaa-waste a-waw-waw…" Umm. Maybe not.
IAN JAMES CORLETT is an award-winning children's television writer and author of E Is For Ethics and the newly released, E Is For Environment. He resides in Vancouver British Columbia and Palm Springs California with his wife and two children.
*Residents of Canada can enter for a chance to win a copy of E is for Environment. Leave a comment on this post for one chance. Leave a second comment on our post about E is for Environment. Each comment will give you one entry to win. Maximum two entries per person. We will hold a random draw on Tuesday, April 26th and will contact winners by email.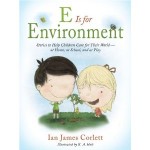 E Is for Environment: Stories to Help Children Care for Their World at Amazon.com
E Is for Environment: Stories to Help Children Care for Their World at Amazon.ca