E is for Environment by Ian James Corlett

E is for Environment – Stories to Help children Care for Their World – at Home, at School, and at Play
Written by Ian James Corlett and Illustrated by R.A. "Riley" Holt




Featuring a friendly, conversational tone, E Is for Environment: Stories to Help Children Care for Their World
provides a wealth of useful information for children and families.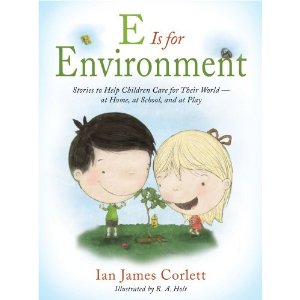 After hearing a presentation by Matt Hill and Steph Tait of Run for 1 Planet at their school, Elliott and Lucy are inspired to find all sorts of ways to take action to "green" their world.
Twenty-six chapters (four pages each) cover everything from carpooling to soccer games and wearing a sweater rather than turning the thermostat up to packing a litterless lunch and choosing green gifts.
Each chapter begins with a scenario that suggests an opportunity for Lucy and Eilliott to make a change. Readers are encouraged to answer a question, "What do you think Elliot's new plan was?" and then read to see if their guesses are correct. Additional supporting information is provided, and more questions prompt readers to consider how they can apply Elliott and Lucy's decisions to their own lives. Thought-provoking quotes enhance most of the chapters.
When Elliott decides to use rechargeable batteries in his favourite toy robot, we learn that rechargeable batteries have up to 28 times less impact on the environment than regular (alkaline) batteries and rechargeable batteries can be reused up to 1,000 times.
When the family decides to walk to the post office rather than drive, we learn that Thomas Jefferson remarked, "Of all exercises walking is the best." and Stephen Wright said, "Anywhere is walking distance, if you have the time."
In addition to being an inspiring resource for families, E is for Environment is ideal for primary classroom use. Reading one chapter aloud each week could be used to prompt on-going discussions and action including encouraging young researchers to explore the science behind the book.
E Is for Environment: Stories to Help Children Care for Their World at Amazon.com
E Is for Environment: Stories to Help Children Care for Their World at Amazon.ca