10 Things I Can Do to Help My World, Ways for Kids to Make a Difference
Storytime Standouts looks at an eco friendly picture book that promotes environmental awareness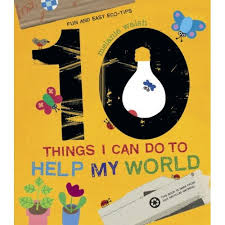 10 Things I Can Do to Help My World written and illustrated by Melanie Walsh
Eco Friendly Picture Book published by Candlewick Press





Striking die-cuts and a fun format enhance to this delightful read-aloud. Big, bold illustrations – perfect for a group setting – show readers ten ways young children can help our world. With reminders to turn off the light when leaving a room, turn off the tap off when brushing teeth, put out a birdfeeder in the winter, draw on both sides of the paper and walk to school rather than drive, youngsters will feel empowered to make a difference by this eco friendly picture book.
Additional notes such as Every time you do this, you save eighteen glasses of water. and Turning off lights and using more efficient lightbulbs saves valuable energy. will engage and inspire older readers.
Made from 100% recycled material 10 Things I Can Do to Help My World's
eco-friendly tips are great for preschool and kindergarten. For older children, 10 Things I Can Do demonstrates creative ways to deliver important messages using eye-catching illustrations, factual information and word art.
Possible extension activities could include identifying and illustrating five or ten more ways to "help" (at school or on the playground) using like techniques.
10 Things I Can Do to Help My World at Amazon.com
10 Things I Can Do to Help My World at Amazon.ca