Helpful Reusing and Recycling Suggestions for Preschoolers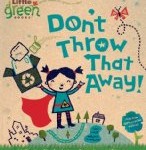 Don't Throw That Away!
written by Lara Bergen and illustrated by Betsy Snyder has an upbeat, positive message for very young children: what looks like garbage may be recyclable. Discarded paper, plastic, metal and glass all belong in a recycling bin, an empty jam jar can be transformed into a vase and a plastic milk jug can become a bird feeder. Additional flaps reveal homemade musical instruments, costumes and a car made from a cardboard box.
Great for preschool-age children, the relatively small format (typical of many board books) makes it best-suited to an individual or small group setting. Would be an excellent introduction to an art or craft project reusing discarded materials.
Don't throw That Away! screensaver

Simon and Schuster's Circle the Items That Are Recyclable activity
Don't Throw That Away! at Amazon.com (Little Green Books)
Don't Throw That Away! at Amazon.ca (Little Green Books)