Good Morning, Sam by Marie-Louise Gay – It is Sam's Turn Now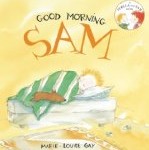 Good Morning Sam – written and illustrated by Marie-Louise Gay
I sincerely hope you are familiar with Sam and Stella. The (younger) brother and sister are featured in the wonderful books that make up Marie-Louise Gay's Stella series.
In Good Morning, Sam
, Sam is front and centre as he begins his day. As always, Ms. Gay's depiction of the siblings' relationship is tender and sweet – Sam strives for independence until he needs his big sister's help. Simply illustrated and told, this story will captivate young children and their families.
Ages 3 and up
Marie-Louise Gay's website includes downloads (colouring pages, stickers and more)
Interactive Website for Stella and Sam
Good Morning, Sam at Amazon.com
Good Morning Sam at Amazon.ca