Beginning to Read – Day 1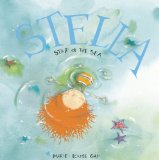 In our first Beginning to Read class for this week, our theme was 'the beach.' We read a story by Marie-Louise Gay titled, Stella Star of the Sea. We talked about Stella and her little brother, Sam. We noticed that Sam is afraid and that Stella is not. We also talked about the fact that Sam asks many, many questions. Sometimes Stella's answers are correct and sometimes her answers are not. Most of the children were able to make connections between this story and experiences they have had. Many talked about going to the beach and seeing shells or sea stars, some talked about being on boats and seeing killer whales. I think Sam's hesitance to dive into the water is something we can all relate to.
You might be interested to hear some of the children's responses to my question, "Why might it be noisy at the beach?" I thought they would answer, "The sound of the waves is loud." Actually, they mentioned that crabs make quite a bit of noise, sperm whales are also loud. Others mentioned sea gulls. With some prompting, some of the children thought that the waves (caused by boats) are loud.
By the way, we love it when children make connections with the books they read! Whenever possible, try to match books to your child's experiences; starting school, travelling, going to the dentist, planting a garden, visiting a fire hall.
Also, just a gentle reminder, reading aloud to children continues to be important – even when they begin reading independently. When your child begins to read, make sure that you continue to read books that s/he is not yet able to manage. You will motivate your child to become a better reader!
In today's class we talked about vowels (A, E, I, O, U, Y). The children learned a little song about vowels. We will use one vowel each day and today's vowel was "a." We combined "a" with "t" to make the work "at." Once we had read "at," we added b, c, f, h, m, p, r, and s to make words. We also tried some "tough" words: flat, that and splat.
In the 2:15 class and the 4:00 class, we played a game that reinforced today's word family. The children threw 'seaweed' at 'shark fins' and then we read the words on the shark fins. The shark fin words were 'at', 'bat', 'cat', 'fat', 'hat', 'mat', 'pat', 'rat', and 'sat.'
I will write again tomorrow. In the meantime, if you have any questions, please email me at [email protected]
Also, just a quick note to say that none of our classes are full this week. There are places available at 12:30, 2:15 and 4:00. If you have a friend who is interested, please have them call the Registration Call Centre or stop by Steveston to register. It would be my pleasure to see the last few spaces filled.
Downloads from Marie-Louise Gay's website
Click here for Stella and Sam stickers, colouring sheets, posters, bookmarks and more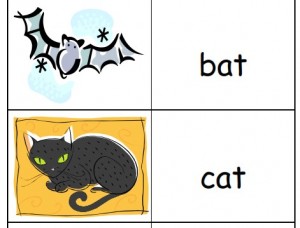 Downloads from this Website

The "At" Word Family

Free -at word family printable for young readers in kindergarten and grade one.

Beach Picture Dictionary

Free printable picture dictionary for readers and writers in kindergarten and grade one.

Writing paper for kids - Sandcastle

Beach theme interlined paper for beginning writers.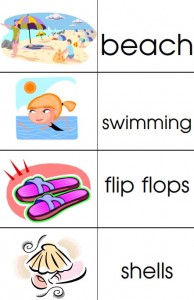 Stella, Star of the Sea at Amazon.com
Stella, Star of the Sea at Amazon.ca