Big Bear Hug by Nicholas Oldland – What Could be Better?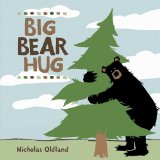 Big Bear Hug written and illustrated by Nicholas Oldland
Fable Picture book published by Kids Can Press
Author – illustrator Nicholas Oldland introduces a happy, affectionate bear who shares his love by wandering through forests and hugging flora and fauna, large and small. One day the friendly bear is shocked to find a man with a menacing ax strolling through the forest. The man is planning to chop down one of the oldest and finest trees in the woods. Despite his anger, the bear resists an urge to attack and gives the startled man an enormous "bear" hug.
This simply told fable features distinctive, bold illustrations and a loving message. Big Bear Hug will be thoroughly enjoyed by children three and up.
Big Bear Hug at Amazon.com
Big Bear Hug at Amazon.ca