When the Earth Wakes follows Mother Bear and her cub through a year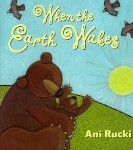 When the Earth Wakes – written and illustrated by Ani Rucki
A lovely book for very young children, When the Earth Wakes
invites readers to observe as spring arrives, the earth is awakened and a mother bear stretches with her young cub. We watch the snow melt and the two bears frolic in the sunshine and warm breeze. Before long it is summertime; butterflies, salmon, thunderstorms and starry nights change the natural landscape once again. When leaves begin to change and blueberries ripen, the two bears know it is time to prepare for winter. A lovely, gentle circular story about the changing seasons and our beautiful earth.
Striking coloured pencil illustrations make When the Earth Wakes
well-suited to a read aloud setting.
When the Earth Wakes at Amazon.com
When the Earth Wakes at Amazon.ca