How About a Fletcher and the Snowflake Christmas?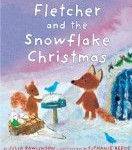 Fletcher and the Snowflake Christmas written by Julia Rawlinson and illustrated by Tiphanie Beeke
Christmas picture book published by Greenwillow Books, an Imprint of Harper Collins
It is Christmas Eve and Fletcher Fox's rabbit friends have moved into a new burrow. Fletcher suddenly realizes that Santa won't know about the rabbits' new home. Together with his forest friends, Fletcher uses sticks to leave a trail of arrows for Santa to follow through the woodland. Unfortunately, a snowfall on December 24th conceals the signs the animals left for Santa. What happens next is truly magical…
Fletcher and the Snowflake Christmas uses rich description and evocative, pastel illustrations to tell a heartwarming story of friendship. A great addition to your holiday bookshelf. A highly recommended Christmas picture book for children aged four and up.
Fans of Fletcher will also enjoy Fletcher and the Falling Leaves and Fletcher and the Springtime Blossoms
Fletcher and the Snowflake Christmas at Amazon.com
Fletcher and the Snowflake Christmas at Amazon.ca