Noni Says No – picture book explores friendship, gaining confidence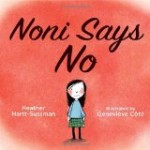 Noni Says No written by Heather Hartt-Sussman and illustrated by Genevieve Cote
Picture book about friendship published by Tundra Books
Noni is a capable, confident young girl most of the time. She knows the alphabet forwards and back, she helps with her baby brother and she is fine when she walks to her friend's house.
"But now, if her friend Susie asks to sleep over, Noni says yes, even though she sometimes wants to say no. If Susie asks to play with Noni's special doll, Noni says yes. If Susie asks to borrow her favorite dress, Noni says yes. Noni absolutely, positively cannot say no."
Noni Says No
is a thoughtful examination of friendship and how, in some cases, one child's desire to please another can come at too great a cost. Noni manages well in most situations but, for some reason, she has great difficulty saying "no" to Susie. Readers will infer that Noni is afraid to say "no" because to do so might jeopardize the friendship.
When Susie's demands finally push Noni too far, Noni arms herself for an anticipated battle and manages to find her voice.
Genevieve Cote's powerful illustrations depict Noni's emotions beautifully. Without a doubt, Noni Says No readers will feel compelled to consider what it means to be a friend and how to assert one's ideas and opinions respectfully in a friendship. The story will be enjoyed by all children four and up and will have a special resonance for those who lack confidence in social situations.
Noni Says No at Amazon.com