Wordless Picture Book Explores Friendship: South by Patrick McDonnell
Storytime Standouts looks at an almost wordless picture book about friendship, South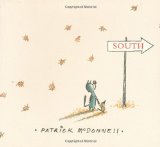 South created by Patrick McDonnell
Almost wordless picture book published by Little, Brown





The Mutts comic strip appears in over 700 newspapers and Mooch the Cat is one member of a diverse "cast" of characters appearing in the cartoons. Whether you are a fan of the comic strip or not, South and Mooch are sure to charm you in this gentle story of friendship and acceptance.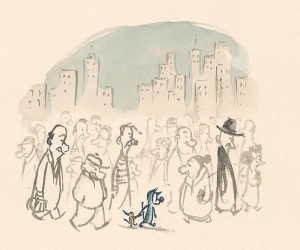 As the last leaf detaches from a tree, a large flock of yellow songbirds lifts to the sky. It is time to head South for the winter. The golden leaf slowly drifts downward until it lands on a snoozing bird. Awakened suddenly by the intrusive leaf, the drowsy bird is shocked to discover an empty tree. Where is the flock? Agitated and suddenly very lonely, the bird seeks help from Mooch and is devastated to learn that the flock has left for warmer climes.
Mooch pauses, thinks and extends his paw. Mooch will help the errant bird find the flock. Together, the two unlikely friends travel through a busy city, into a forest and through a snowstorm as they search for the flock. At times, Mooch carries the tired bird on his back. The unexpected friendship between the two deepens. When the weary pair finally hear the sweet sounds of the songbirds, they share a tender moment before parting company. Satisfied, Mooch returns home and curls up by a welcoming fire. Winter has arrived and his job is done.
South themes include loneliness, kindness, friendship and social responsibility. Printed on recycled paper, the almost-sepia tones match the mood and a story set in Autumn beautifully. Well suited to children aged four and up, South will be equally enjoyed by adults.
South at Amazon.com
South at Amazon.ca
Our page about Wordless and Almost Wordless Picture Books