Storytime Standouts looks at Jeff Newman's wordless picture book, The Boys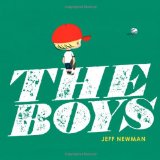 The Boys created by Jeff Newman
Almost Wordless Picture Book published by Simon and Schuster
When a young lad moves houses with his family, he is anxious to find a baseball game in his new neighbourhood. He unpacks his baseball glove, bat and spikes and ventures out into the neighbourhood.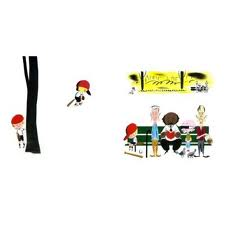 Once he arrives at the park, he hesitates, watching some children from afar. Rather than joining the kids' game, he is dejected. He slowly approaches a park bench and sits down. Four aging men are already seated, feeding the pigeons.
The following day, the disappointed boy stores his baseball gear away and joins the men sitting on the bench. He helps to feed the pigeons.
The men take note of his appearance when he joins them on the bench a third time. He looks old – probably much older than they feel! It is time for action.
The men give up sitting on the park bench, instead playing on the playground monkey bars and the slide. They are smiling and laughing. They have been transformed. When a bike awaits the boy the following day, it is clear the men think it is time to get moving – they climb onto bikes, a scooter and a wagon, annoying the pigeons and our boy. He just wants to sit.
Little does he know, a plan is afoot. On Sunday the men will play a baseball game. They supply a batting helmet and a bat, and watch as their hesitant young friend hits one "out of the park."
Confidence regained, the youngster approaches the boys and girls playing at the park and joins their baseball game. The cronies cheer from the stands.
There is much to love about The Boys . Boldly illustrated, the almost wordless picturebook introduces themes of social isolation, self confidence, ageism and the value of play. Readers will find it both thought-provoking and reassuring.
Suitable for children kindergarten age and older.
One of Kirkus Reviews' 2010 Best Children's Books
The Boys at Amazon.com
The Boys at Amazon.ca
Our page about Wordless and Almost Wordless Picture Books