Storytime Standouts highlights three special picture books for youngsters headed off to school and shares a free printable picture dictionary and writing paper
Are your children excited to start school or are they fearful about it? Do they have questions about what the classroom will look like and who will be there? Are they concerned about rules, routine and homework or are they excited to meet their teacher and make new friends?


For many adults, books are a great source of information as well as entertainment. Whether searching for a delicious recipe, researching an upcoming family vacation or deciding if a visit to the doctor is necessary, books can be inspiring, entertaining, informative and reassuring.


Just as adults seek information from books, children gain understanding and confidence as they explore new and unfamiliar situations through books. Whether beginning preschool or returning to school in September, there are many delightful picture books available to help you and your child explore the experience together and then make the transition with ease.
---
Fun song for children starting First Grade
---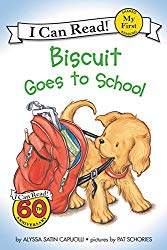 Biscuit Goes to School written by Alyssa Satin Capucilli and illustrated by Pat Schories
Beginning Reader published by Harper Trophy
Biscuit is a truly outstanding series for beginning readers. Beautifully illustrated with engaging pictures that will help a new reader to determine meaning. Classroom depicted is racially diverse.
Resources for extension activities, including printables are available here.
Biscuit Goes to School at Amazon.com
Biscuit Goes to School at Amazon.ca
---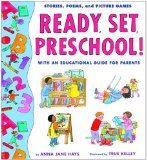 Ready, Set, Preschool! – written by Anna Jane Hays, illustrated by True Kelley
Picture book about preschool published by Knopf Books for Young Readers an Imprint of Random House Children's Books
Ready, Set, Preschool! features stories, poetry and detailed illustrations that will enable youngsters to explore a typical preschool classroom, experience a field trip, observe playground activities and more. As well, the illustrations and text offer opportunities to practice counting, identifying colors and shapes, recognize rhyming words, the alphabet and letter sounds.
Extensive notes for parents provide helpful suggestions of ways to extend learning and prepare young children for their very first school experience.
Ready, Set, Preschool!: Stories, Poems and Picture Games with an Educational Guide for Parents at Amazon.com
Ready, Set, Preschool!: Stories, Poems and Picture Games with an Educational Guide for Parents at Amazon.ca
---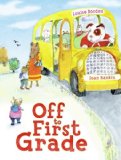 Off to First Grade – written by Lousie Borden, illustrated by Joan Rankin
Picture book about starting grade one published by Margaret K. McElderry Books
I can still recall vividly a recommendation that was made when I attended my eldest son's kindergarten orientation: make sure your child is not expecting to ride the school bus to school unless he actually is going to climb aboard)! It was great advice. In those days he was captivated by large vehicles. Discovering at the last minute that he would not be riding the bus off school could have been terribly disappointing. The transition from kindergarten to grade one is explored thoroughly and with thoughtfulness in Off to First Grade. The author tells the story from a variety of perspectives. We discover some children will ride the bus and others will walk. Some are eager to begin grade one and a few think they would rather stay in kindergarten. Mrs. Miller is hoping to remember everyone's name, the school bus driver is excited and the principal wonders which book to read aloud to the new grade one students.
Off to First Grade at Amazon.com
Off to First Grade at Amazon.ca
---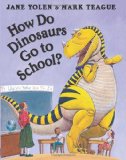 How Do Dinosaurs Go to School? – written by Jane Yolen, illustrated by Mark Teague
Picture book about school life published by The Blue Sky Press an imprint of the Scholastic Trade Book Division.
For children heading off to school, the best How Do Dinosaurs title by Jane Yolen and Mark Teague is How Do Dinosaurs Go to School? Here the reader visits a conventional elementary school. The school, its staff and students appear quite unremarkable except for eight or ten extraordinary pupils. Enormous creatures from the Jurassic period demonstrate proper behavior enroute to school, on the stairs, in the classroom, during show-and-tell and at the playground. Lots of funosaurus for dino fans who are heading off to school soon.
How Do Dinosaurs Go To School? at Amazon.com
How Do Dinosaurs Go to School? at Amazon.ca
---
These stories about worries and fears may also be helpful for children who are anxious about starting school
Our back to school theme printables are perfect for beginning writers.

3 Free Back to School Theme Printables for Home and School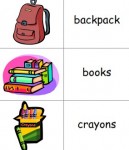 School Picture Dictionary

Free printable school picture dictionary for readers and writers in kindergarten and grade one. Also a great resource for ELL / ESL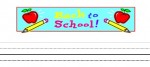 Writing paper for kids - Back to School

Free printable Back to school theme interlined paper for beginning writers.


My First Day of School 'Boom'

Free printable interlined writing paper for the First Day of School