Bad Astrid – Antibullying Picture Book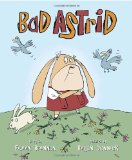 Bad Astrid written by Eileen Brennan and illustrated by Regan Dunnick
Antibullying picture book published by Random House
She came into town like five tons of bad luck.
She came into town in a big moving truck.
From the moment Astrid and her family move into a new neighborhood, she is unpleasant. She chases, teases and is destructive. Ignoring her and keeping busy seems to be the best solution until one day Astrid has a bad accident while riding her bike. She needs help. Her victim hesitates to step forward. She asks, "Why are you mean to me?". Astrid's explanation surprises her remarkably forgiving neighbor and the two girls discover a way to be friends.
When reviewing antibullying picture books, we prefer stories that resolve the bullying problem realistically. Although Astrid's bike crash and her victim's willingness to forgive her past deeds provide a somewhat'magical' solution to a serious bullying problem, we think there is lots to appreciate about Bad Astrid. Fun cartoon-like illustrations, playful word art and rhyming text will have special appeal for older readers and may make this an excellent discussion-starter about bullying for primary-grade classrooms.
Bad Astrid at Amazon.com
Bad Astrid at Amazon.ca