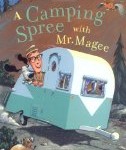 A Camping Spree with Mr. Magee – written and Illustrated by Chris Van Dusen
An absolutely irresistible adventure story for young children. A Camping Spree With Mr. Magee
is one of my all-time favourite picture books. When Mr. Magee and his small dog begin their camping trip, they have no inkling that a near-sighted, marshmallow-fancying bear will soon have them staring down a fifty foot waterfall.
They were snoring and snoozing, enjoying a dream, When splash went the camper right into the stream! The splash shook the camper. They jumped out of bed. "Now what in the world was that?" Magee said.
Both adults and children will thoroughly enjoy the rich and dramatic illustrations as well as the delightful rhyming prose. Don't miss it!
36 pages, Ages 4 to 7
A Camping Spree With Mr. Magee at Amazon.com
A Camping Spree with Mr. Magee at Amazon.ca
We invite you to extend your child's learning with our Camping theme writing paper for kids


Writing paper for kids - Camping

Camping theme interlined paper for beginning writers.