Picture Book Fun with Daddy – I'd Know You Anywhere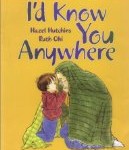 I'd Know You Anywhere – written by Hazel Hutchins and illustrated by Ruth Ohi
Picture book about a child's relationship with his father published by Annick Press Ltd
This story is especially suitable for a Dad's Day at preschool or for celebrating Father's Day. Young Jeremy attempts to hide amongst the toys in his bedroom. Daddy finds Jeremy and reassures him that he would know him anywhere and in any form. The father-son game continues as Jeremy imagines wonderful hiding places and disguises. He could disguise himself and hide near a creek or in the ocean or up in the sky…
If I became a sheep
upon a mountainside,
one of many thousand sheep,
a woolly, moving tide-
If I became a sheep,
would you know me then?
Daddy reassures his son that no matter where Jeremy might hide, he would find him.
Reminiscent of The Runaway Bunny, I'd Know You Anywhere concludes with Daddy and Jeremy disguising themselves and sneeking up on mom.
Ruth Ohi's illustrations do a lovely job of depicting the playful relationship between father and son.
The story is best suited to very young children, aged two and up.
24 pages

I'd Know You Anywhere at Amazon.com
I'd Know You Anywhere at Amazon.ca