Storytime Standouts looks at an award-winning almost wordless picturebook, The Lion and the Mouse by Jerry Pinkney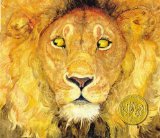 The Lion and the Mouse created by Jerry Pinkney
Almost wordless picturebook published by Little, Brown Kids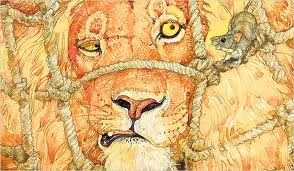 The story of the lion and the mouse is an Aesop's fable that every child ought to know well. The lion, powerful and dangerous resists an opportunity for bullying and, instead, is kind to a small mouse. Later, when the lion is trapped in a hunter's net, the grateful mouse has an opportunity to return the favour. He chews the rope net and eventually manages to free the lion.
Jerry Pinkney has created a masterful, almost wordless picturebook version of The Lion and the Mouse. From cover to cover, beautiful illustrations depict the African Savanna and the animals found there while telling the story of a compassionate lion and his small friend. Winner of the 2010 Randolph Caldecott Medal and also a New York Times 2010 Best Illustrated Book and a 2010 Horn Book Awards Honor Book, The Lion and the Mouse relies upon the illustrations to tell the story. Pinkney only uses words to describe animal sounds.
Highly recommended for both classroom and home libraries, The Lion and the Mouse could be used to explore many themes including anti-bullying, friendship and stereotying.
Educator's Guide in PDF format
The Lion & the Mouse at Amazon.com
The Lion & the Mouse at Amazon.ca