Meet Author Crystal Vaagen author of Robbie Zero, Super Girl Hero

Crystal Vaagen is an educator and author of the children's book, Robbie Zero, Super Girl Hero. In her free time, she likes to read French poetry, go on nature hikes, and bake cookies. Her latest project includes writing the second book in the Robbie Zero, Super Girl Hero series which will be published this year.
Twitter account: @robbiezero
Facebook page:
Website URL
Tell us about your latest published children's book. Who do you think should read it? What are you most proud of?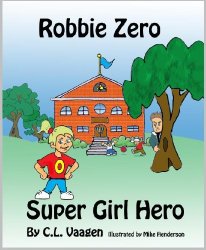 My latest published book is Robbie Zero, Super Girl Hero. It's an anti-bullying book and the first published book in the "Robbie Zero, Super Girl Hero" series. The book is about a girl, Robbie Zero, who gets constantly picked on by a classmate named Tommy, but when Tommy needs help, it is Robbie Zero who ends up saving the day. It's a book about turning situations that are negative into something positive and about empowerment. It also delves into the psychology of why some people are bullies. Children of all ages should read it and as well as their parents. It is important to start a conversation about issues that children face at school. What I am most proud of is when my book is read to children in classrooms and they can relate with the characters. I'm also pleased when I hear people tell me how much it meant to read it to their families and how it started a discussion that might not have otherwise taken place.
Robbie Zero, Super Girl Hero at Amazon.com
Robbie Zero, Super Girl Hero at Amazon.ca
Thinking back to your own childhood, is there a particular author or illustrator who was a favorite? Why do you suppose that person's work resonated with you?
I have a few authors/illustrators that resonated with me. Peggy Parish (author of Amelia Bedelia) was a favorite in my youth. I always thought her stories were funny because of the constant play on words (i.e. draw the draperies where the phrase was taken literally by Amelia). Looking back, her books were very well-written. Misunderstandings are a part of everyday life and her books allow her readers to get involved, something I try to create with "Robbie Zero" books. One illustrator/writer who I have always admired is Charles Schulz. I'd have to say he's my all-time favorite. I connected with his work because the themes were adult like, characters didn't have to talk to make a statement, and there were no adults ever shown, to my knowledge, in any of his comic strips.
When did you realize that you would be a writer/illustrator? Is there a particular person who has inspired and/or supported your work along the way?
The first time I ever wrote anything was in 2nd grade. I had a wonderful teacher, Mrs. Fields, who allowed us to create. She basically told us that we could put on plays for the class when our work was finished. Inspired, I went home and wrote a small play, grabbed a few classmates to help with the characters, and we put on a fabulous play. I thanked her recently for allowing us to use our imagination, when I happened to met her some 30+ years later.
I wrote my first book when I was nine years old, which I thought was fun. It's still sitting in a box somewhere. It was about the Lewis and Clark expedition because I was fascinated by how two people could change the face of the nation. It was a small book. In my high school years, I wrote for the school newspaper. After I graduated high school, I ran into my journalism teacher and told her how imperative it is in the real world to know how to write and communicate effectively. She asked me to come back and speak to her class. I never did for some reason. I wish I would have. I kept my writing on the backburner, writing mostly poetry, but decided that there needs to more morally themed children's books available.
Tell us about your experiences sharing your book with children. Has anything unusual / endearing / funny / unexpected happened?
I have donated Robbie Zero, Super Girl Hero to a few schools, especially when I find out that they have limited access and cannot afford them. There was one school in Mobile, AL that received my book. A 5th grade teacher read it to her class and said that some students in her class "wanted to cry because they felt bad" for one of the characters. I didn't know how to react. The topic of bullying is touchy, but it needs to be discussed. I felt like the story reached her kids, but felt bad that they wanted to cry. It IS a feel good book, after all.
What are the joys of being an author / illustrator? What do you derive your greatest pleasure from?
I like to share my experiences to help others. When you go through things in life, sometimes you wonder, "Why me? Why is this happening?" But when you look back, you realize that it was a lesson learned. This is what I hope to bring to my books, not to necessarily prevent someone from experiencing the issue, but to help them overcome the issue.
Have any of your books been published electronically? If so, what was that process like? What sort of feedback have you had from readers?
Yes, Robbie Zero, Super Girl Hero has been published electronically. The process was easy. Before even writing the book, I watched a video on how to publish it via Amazon, and basically taught myself everything else on other publishing pages. When you have the curiosity to learn, you can do almost anything. The feedback I have received from readers and fans is great. Most people find it easy to download a book on their ipad, iphone or pc. I have been asked by a few people to print my books because there are those who like to actually hold a book. It is something I am still considering, but the demand is not as high as it is for books published digitally, it seems. We'll see.