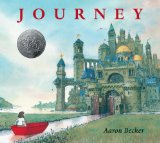 Journey created by Aaron Becker
Wordless picture book published by Candlewick Press
Journey is Wondrous, beautiful, inspiring, magical
–
So many words could accurately describe this books for children. A wordless picture book, Journey is the story of a city-dwelling girl whose family members are occupied with chores and technology. As she sits, bored and perhaps lonely, on the front stoop, a neighboorhood boy stands nearby, holding a purple crayon. She goes inside the house and tries to engage her family members in play but they are busy. Disappointed, she goes to her bedroom. Moments later, she notices a red crayon on the bedroom floor. She picks it up, draws a doorway on her bedroom wall and escapes her boring, sepia-toned environment. Soon she is surrounded by gorgeous, glowing colors. Her magical red crayon allows her to create a rowboat, a hot air balloon and a magic carpet as she explores a mystical word, filled with unusual people, intriguing buildings and fascinating machines.
In this wondrous world, she encounters the neighboorhood boy with the purple crayon, the circle is completed and she discovers a new friend.
Highly recommended, this book will be appreciated most by children aged four years and up. As well, adults will be inspired by both the illustrations and the narrative.
Journey at Amazon.com
Journey at Amazon.ca
Book Trailor

How 'Journey' Came to Be