Discover Mid-Autumn Moon Festival Picture Books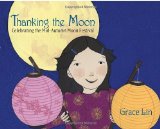 Thanking the Moon – Celebrating the Mid-Autumn Moon Festival written and illustrated by Grace Lin
Picture book about the Mid-Autumn Moon Festival published by Albert A. Knopf, an imprint of Random House
Beautiful, detailed illustrations highlight Thanking the Moon. We join a family of five as they enjoy a nighttime picnic and honor the moon. While the youngest girl plays, the older daughters help to set up a moon-honoring table, pretty lanterns and an enticing spread of traditional food: hot tea, moon cakes, steamed cakes, grapes and pomelo.

Extensive afternotes explain the significance of the Mid-Autumn Moon Festival and the traditions associated with it. Young readers will certainly want to enjoy the story a second time, once they understand the significance of the fruit, the tea cups and the delicious moon cakes.
Well suited to children aged three and up.
Thanking the Moon: Celebrating the Mid-Autumn Moon Festival at Amazon.com
Thanking the Moon: Celebrating the Mid-Autumn Moon Festival at Amazon.ca
---
A lovely complement to Thanking the Moon…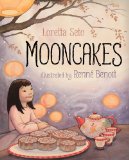 Mooncakes written by Loretta Seto and illustrated by Renne Benoit
Picture book about the Mid-Autumn Moon Festival published by Orca Book Publishers
Narrated by a young girl, Mooncakes echos Thanking the Moon. We observe a family's preparations for the Mid-Autumn Moon Festival – the excitement about staying up late, anticipation of special treats to eat, glowing paper lanterns and a beautiful full moon.
Once the family is comfortably settled in a moonlit chair, we hear three stories. The stories are about Chang-E, the woman who lives on the moon in the Jade Palace, Wu-Gang, a woodcutter and Jade Rabbit who also reside on the moon.
The watercolour illustrations nicely portray the special celebration, bathing the landscape in silvery moonlight. When the traditional tales are shared, the colours are more vivid.
Afternotes are less detailed than those in Thanking the Moon but they do include a reminder, 'Even relatives who are unable to be with their families can look up at the dark sky and know that their loved ones are watching the same moon.'
Best suited to children aged four and up.
Mooncakes at Amazon.com
Mooncakes at Amazon.ca
Follow Storytime Standouts's board Mid-Autumn Moon Festival for Preschool and Kindergarten on Pinterest.