Long Night Moon – a graceful picture book look at the full moon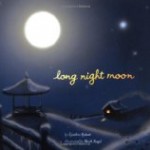 Long Night Moon written by Cynthia Rylant and illustrated by Mark Siegel
Picture book about the moon published by Simon and Schuster
Simply told and beautifully illustrated, Long Night Moon
encourages us to carefully consider the beauty of the moon when it is full and how the world around it changes during a calendar year. Did you know, 'In June the Strawberry Moon shimmers on succulent buds, on crisp new shoots, on quiet, grateful rabbits'? Both evocative and magical, once read, the full moon will never seem quite the same.
A lovely bedtime story, it would be great to connect this picture book with a nighttime walk out of doors.
Recommended for children aged 3 – 6.
Note: for older children, Rylant's use of personification could be examined.
Scholastic's lesson plan for this picture book
Home School Share for this picture book
Long Night Moon at Amazon.com
Long Night Moon at Amazon.ca