Family Literacy Program Development Part 2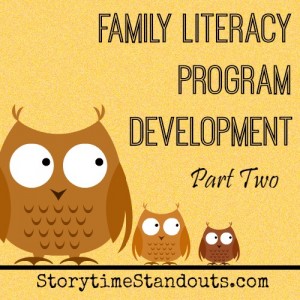 Family Literacy Program format
Each session of our family literacy program began with a thirty minute "storytime" presented by a librarian. The storytime theme matched the weekly program theme. This ensured a good match between the librarian's "storytime" and the program presented by the program facilitator. Following the "storytime," the group learned a new rhyme or chant (in rebus form) and theme-related vocabulary. The group also reviewed material from previous sessions, sang the Alphabet Song and played learning games. For Mother's Day and Father's Day, the children (enthusiastically) made cards to take home.
Most weeks, the children spent time with the child minders while the program facilitator presented information to the adults. During this portion of the program, the child minders served a healthy snack of fresh fruit and juice or water.
The adult portion of the program included ways to help children with alphabet recognition, the importance of phonemic awareness, the value of reading aloud, ways to help a child with comprehension, why wordless picture books support vocabulary development as well as an introduction to affordable recreation opportunities in the community. The presentation of rebus chants and vocabulary activities also provided learning opportunities for adults.
Weekly handouts were provided to both the children and the adult participants. As well, multilingual information about accessing emergency services (911) was offered.
Introducing a Homework Component
During June, the children who participated in the family literacy program received "homework" assignments which included borrowing a book from the library, reading environmental print, counting, printing, drawing, comparing, borrowing a theme box from the library and enjoying read alouds. Most of the participants completed and returned the homework to the facilitator.
Also in June, the Summer Reading Club was actively promoted and most of the children signed up to participate. By the time the program ended, virtually all of the adult participants had library cards and were using them.
The final family literacy program session included the usual storytime, chants, vocabulary, snack and adult learning. The children who attended regularly received Certificates of Attendance. At noon, most of the participants walked to a nearby park and played with sidewalk chalk, blew bubbles and enjoyed the playground equipment. It was a happy, friendly time.