Family Literacy Program Development Part 3 – We share helpful tips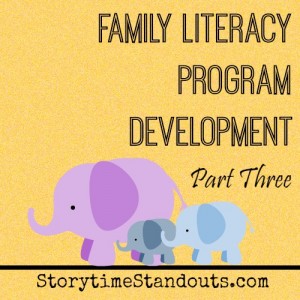 I have a firm belief that everyday experiences represent tremendous opportunities for children to learn and grow. Whether hearing a nursery rhyme during a diaper change, chatting while doing grocery shopping or laughing about a fun picture book, interactions between family members and with other caregivers provide many opportunities for language development and growth.
Almost all parents and caregivers want their children to flourish, they want to be involved, effective parents and they want to create a healthy, nurturing environment for their children. In my opinion, a good family literacy program will support parents and caregivers without intruding. A good family literacy program will be responsive to the needs identified within the community. An important aspect of responsiveness is a willingness to listen to parents and other caregivers and to ensure that services are delivered when, where and how they are needed.
A good family literacy program will be empowering, it will help adults understand the pivotal role they can and should play in developing their child(ren)'s literacy. It will encourage parents and other caregivers to make time for reading aloud, playing with and talking to children. A good family literacy program will encourage adults to consistently enrich the lives of young learners with a variety of spoken and written language and experiences.
As an aside, learning does not need to be an expensive proposition but it does require commitment. It is easier to put a child to bed without reading a story, it is easier to let the child watch television than to sit and do a puzzle with him, it is easier to text with a friend than to chat about fire fighters and their equipment. for the tenth or twentieth time. A good family literacy program understands this and acknowledges it. A good family literacy program will encourage parents and caregivers to make the extra effort each and every day with their youngsters. A good family literacy program will ensure that participants understand how chatting about fire fighters, sharing a bedtime story and doing a puzzle can have a tremendous impact on young children.