I'll Always Love You – Helping Kids Cope With the Death of a Pet
Books can be enormously helpful for both parents and children when they face difficult and emotional situations.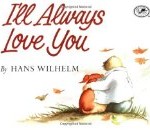 I'll Always Love You written and illustrated by Hans Wilhelm
Picture book about the death of a pet published by Dragonfly Books, an imprint of Random House
In I'll Always Love You we meet a young boy and his much loved dog, Elfie. Elfie and the boy share many experiences but as the boy grows up, Elfie grows old. This sweet tribute to a family pet explains the dog's death respectfully and lovingly. In addition, the story serves as a reminder that expressing our love to those around us can be of some comfort when we must deal with loss.
32 pages, suitable for children aged four years and up
I'll Always Love You at Amazon.com
I'll Always Love You at Amazon.ca