The First Rule of Little Brothers – help older children cope with siblings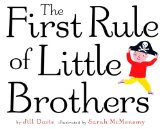 The First Rule of Little Brothers written by Jill Davis, illustrated by Sarah McMenemy
Picture book published by Knopf Books for Young Readers
Oh dear, life can be awfully complicated when a younger brother or sister arrives on the scene. Before long, favourite toys are grabbed, tall towers are destroyed and 'me too' is an oft-heard phrase. For older children who are learning to get along with a little brother or sister, this picture book will ring true and inject some humor and insight into the experience.
One day I built the Empire State Building with blocks. It was huge! Taller than me! Then Bro-zilla walked into the room. CRASH!
Bright, colorful illustrations depict the two boys as they grow up. Good fun!
The First Rule of Little Brothers at Amazon.com
The First Rule of Little Brothers at Amazon.ca