Love is You and Me – Monica Sheehan's Picture Book Celebration of Love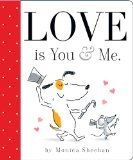 Love is You & Me written and illustrated by Monica Sheehan
Picture book published by Simon and Schuster
Just in time for February 14th, Monica Sheehan's celebration of love arrives on bookshelves.
Intended for very young children, my copy of Love is You and Me is in a boardbook format. Fun, breezy illustrations introduce a handsome mouse and his dashing canine friend. They adore spending time together; driving in a convertable, sharing a milkshake, holding hands. riding a roller coaster. Whether doing something exciting or nothing at all, true friends know,
"Whever we go love will always be…because…love is you and me."
A perfect book to share for Valentine's Day, Love is You & Me (Monica Sheehan's warmhearted follow-up to be happy!) delivers a reassuring message that will be enjoyed equally by young children and all those who care deeply for them.
Love is You & Me. at Amazon.com
Love is You & Me. at Amazon.ca
Monica Sheehan's be happy!