Remembrance Day for Young Children – A Poppy Is to Remember
Remembrance Day is observed annually in Canada, on November 11th. In the days leading up to November 11th, it is particularly important for adults to find ways to make Remembrance Day meaningful to young children so that they can join with all Canadians in honouring our Veterans, especially those who made the ultimate sacrifice.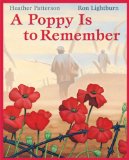 A Poppy Is to Remember written by Heather Patterson and illustrated by Ron Lightburn

A Poppy Is to Remember is a wonderful picture book resource for Canadian families, classrooms and libraries.
A Poppy Is to Remember explains, Once there was a long and terrible war – a war some called the Great War. Many young men went off to fight, and many did not return home to their families. As the battle raged, poppies grew in the battlefield and were seen by a Canadian army doctor, John McCrae. McCrae was inspired to write In Flanders Fields, a poem often read at Remembrance Day ceremonies.
Beautifully illustrated, A Poppy Is to Remember salutes John McCrae and shows readers how poppies are used today when remembering the contributions of present day members of the armed forces as well as veterans, those who care for them and those who mourn their loss.
32 pages, suitable for children aged four and up. Additional materials for older children or adults include The Story of the Poppy and Remembrance Day in Canada.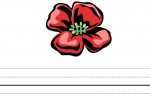 Writing paper for kids - Remembrance Day Poppy

Remembrance Day theme interlined paper for beginning writers.
A Poppy Is to Remember at Amazon.com
A Poppy is to Remember at Amazon.ca