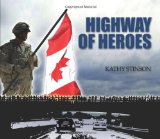 Highway of Heroes by Kathy Stinson
Picture book published by Fitzhenry and Whiteside
A solemn forward by the Chief of the Defence Staff, General Walter Natynczyk affirms that Kathy Stinson's Highway of Heroes is a fitting tribute to Canada's fallen heroes and the route they travel from Canadian Forces Base Trenton to Toronto, Ontario.
Highway of Heroes is a fictional account of one young boy's trip as he and his mom accompany his father's remains from the CFB Trenton tarmac to the coroner's office in Toronto. The boy is surprised to discover, All the people – on all the bridges – are there because of his dad. A hero.
Dramatic photos depict the journey of the convoy and the crowds standing and waiting to honour a fallen soldier.
While dealing with a solemn topic, the text encourages young readers to appreciate and echo the respect shown by Canadians who choose to go to the Highway of Heroes and and honour those who have made the ultimate sacrifice for our country.
32 pages, suitable for children aged five and up
Endnotes include The Story of the Highway, Canadian Soldiers in Afghanistan, Ways to Honour Those Who Are Killed or Wounded In Service to Their Country.
Highway of Heroes Teachers' Guide in PDF form
Highway of Heroes at Amazon.com
Highway of Heroes at Amazon.ca