Barnstormers' Baseball, Will this Author Hit a Home Run Yet?

Game 1 Barnstormers written by Phil Bildner and illustrated by Loren Long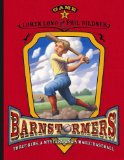 A while back, I had an opportunity to read and listen to the first book in a new historical fiction series for 7 -10 year olds. Game 1 (Barnstormers)
introduces three siblings who travel with a barnstorming baseball team, The Travelin' Nine.
Set in 1899, the first book in the series leaves us with more questions than answers: we know the children's father died in the war and that he possessed a mysterious baseball but it unclear why the ball is significant. We also hear their uncle's warning that great danger lies ahead but so far have only encountered mysterious visions and sounds.
For children who are fascinated with baseball and how it was played 100+ years ago,this series may yet prove very appealing. Personally, I was frustrated that the author left me stranded on second base – with many, many unanswered questions.
Game 1 (Barnstormers) at Amazon.com
Game 1: #1 in The Barnstormers: Tales of the Travelin' Nine Series at Amazon.ca