Since late winter, I have been working with a speech delayed child.
She is five years old and she will start kindergarten in September. Initially, I worked with her for one hour each week. After a month or so, her parents were delighted with her progress and they asked me to double the frequency of our sessions. Currently we meet Tuesday and Thursday afternoons for one hour.
My goals in working with her are to (1) expand her vocabulary (2) increase her speech from one or two word answers to full sentences (3) improve her phonemic awareness (4) increase her understanding of concepts (i.e. opposites, positional words).
Initially our sessions included (1) a wordless picture book (2) nine words that are related to a theme (i.e. Bedtime) (3) a rebus poem / chant ( i.e. Twinkle Twinkle Little Star).
Now, our sessions also include (1) pictures of words that begin with the same sound (i.e. fish, flag, fingers, flower, five, fork) (2) concept books (3) puppets (4) stories for beginning readers (especially the Oxford Press Read At Home series)



So far, my sessions with my speech delayed student have included the following themes:
Birthdays, In the Neighbourhood, Valentine's Day, Feelings, Weather, Clothing, Families, Farm, Bedtime, Music, Fruits and Vegetables, Colours, In the Kitchen, in the Bathroom, Toys and Counting. All of the themes are intended to introduce new and reinforce her existing vocabulary. Once the individual words are mastered, we add description: blue umbrella, brown blocks, green grass.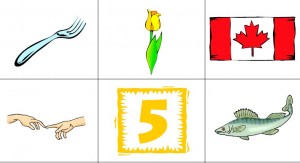 More recently, we have added concepts to our sessions: Words that Are Opposites, Positional Words (in, beside, under, over, behind, in front of).
A typical session with my speech delayed student includes –
Chatting about a simple Wordless Picture Book. Breakfast with Jack created by Pat Schories has been a favourite.
Reviewing the vocabulary introduced in previous sessions. My young student proudly gives herself a "check" each time she correctly says a word.
Reviewing the rhymes and chants introduced in previous sessions. She tracks across each line, using rebus picture clues to 'remember' the words. She loves to 'read' Twinkle Twinkle Little Star and Grandma's Glasses all by herself.
Sorting pictures into words that begin with the /F/ sound, the /M/ sound, the /C/ sound and the /S/ sound.  I mix picture cards for two sounds, she sorts them and then we mix up two more sounds.
To further encourage speech, we play with puppets and we play Simon Says and we sing If You're Happy and You Know It. My student loves to be Simon. She giggles and laughs as she tells me what to do.
I can't tell you how rewarding it has been to work with this young girl.  Her vocabulary and her ability to converse has blossomed.  It has been so exciting to witness the transformation in this beautiful, funny, enthusiastic child.