She'll Be Coming 'Round the Mountain – a wild west picture book for y'all
Storytime Standouts looks at wild west picture book, She'll Be Coming 'Round the Mountain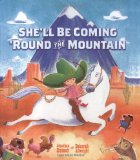 She'll Be Coming 'Round the Mountain created by Jonathan Emmett and Deborah Allwright
Wild West picture book published by Atheneum Books for Young Readers, an imprint of Simon and Schuster's Children's Publishing Division
Every now and then a picture book crosses my desk that is impossible to resist. The cover art and/or the title draw my attention and I quickly make time to peak inside.
Earlier this week, She'll Be Coming 'Round the Mountain did just that. Bonnie Bandit, perched atop one of her six white horses, enthusiastically galloped to the fore. Playfully written by Jonathan Emmett and exuberantly illustrated by Deborah Allwright, this delightful rendition of the classic song is all one could hope for. With suggested actions for each verse, loads of extra details (Her pajamas are 'flowery and frilly, and they make her look quite silly') and eye-popping illustrations, this gem will appeal to adults who fondly remember belting out the song while in the backseat of a car and youngsters who will love to 'Slurp-slurp, Bish- Bosh, Toot-Toot' and 'Yee-Ha'
Perfect for bedtime or circle time, this is one bandit y'all should all go out to meet!
She'll Be Coming 'Round the Mountain at Amazon.com
She'll Be Coming 'Round the Mountain at Amazon.ca
She'll Be Coming 'Round the Mountain songsheet

She'll Be Coming 'Round the Mountain

Lyrics for the traditional song