Emma's Story – a picture book about families, international adoption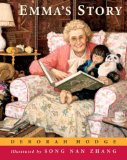 Emma's Story written by Deborah Hodge and illustrated by Song Nan Zhang
Picture book about families and international adoption published by Tundra Books
Emma and her brother are baking cookies at Grandma's house. They use cookie cutters to make a sweet cookie family and then decorate the tasty treats with candies and dried fruit. When Grandma lifts the cookie tray out of the oven, she admires the cookie family but Emma is surprised to see the cookie that Sam has decorated.
Sam had used raisins and strings of licorice to decorate the Emma cookie. Big tears rolled down Emma's cheeks. "I want to look like everyone else," she said.
Emma's sadness prompts Grandma to cuddle with her in a comfortable chair. She opens a photo album and tells her granddaughter's story.
This is a story that Emma has heard before. In fact, she helps Grandma to tell the story properly. It seems that Mommy, Daddy, Sam and their dog Marley were very happy but they longed for a baby girl. They waited and waited for a little girl to arrive. Finally, they heard about a baby girl in China who needed a family.
Emma's Story tells of the family's excited preparations folowed by Mommy and Daddy's long trip to meet Emma. We witness the new family's first night and day together and their trip home to Canada. A large crowd meets the threesome at the airport and joyfully celebrate's Emma's arrival.
Emma has heard her story "a million times" and she is reassured by Grandma's words,
It's not how we look that makes us a family, Emma. It's how we love each other," said Grandma.
"And we love each other a lot!" said Emma.
While perhaps not meant for every bookshelf, Emma's Story offers a very reassuring message and one that bears repeating. Just as Emma likes to hear her story and be comforted by it, children who share the international adoption experience will be similarly reassured by this book.
Detailed illustrations enhance Emma's Story, especially when showing facial expressions.
Emma's Story at Amazon.com
Emma's Story at Amazon.ca