I Ain't Gonna Paint No More! A practically perfect book for preschoolers
When it comes to rhyming picture books, I Ain't Gonna Paint No More! is a masterpiece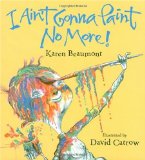 I grew up in the 60's and 70's and I remember, with great fondness, listening to my dad play the piano. It was one of his favourite leisure activities and we'd often sing along. One of the tunes he played was It Ain't Gonna Rain No More.
I suppose my nostalgia is part of my joy in discovering I Ain't Gonna Paint No More, written by Karen Beaumont and illustrated by David Catrow. Without hesitation, it makes my Top Ten list for preschool-aged children. It might even make my Top Five list.
With delightful, exuberant illustrations and equally fun text, you and your child will thoroughly enjoy this irresistible romp. Watch and sing along as a young child paints himself (and much of his home) from top to bottom.
If you're not familiar with the tune, follow the link (above).
So I take some red
and I paint my…
Head!
Now I ain't gonna paint no more.
Aw, what the heck!
Gonna paint my…
Neck!
Now I ain't gonna paint no more.
The bonus with this terrific rhyming picture book is the wordplay; your youngster will be thinking of rhymes and anticipating the next word with no effort at all – just do yourself a favor and hide the paints and brushes in case your child is "inspired" to do a little painting herself!
Helping your child to gain phonemic awareness and preparing for formal reading instruction has never been more fun!
I Ain't Gonna Paint No More at Amazon.com
I Ain't Gonna Paint No More! at Amazon.ca