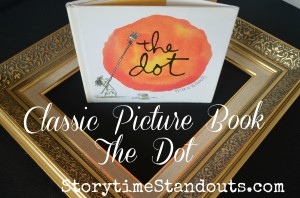 In honor of International Dot Day (September 15th), this week we are highlighting classic picture book, The Dot by Peter H. Reynolds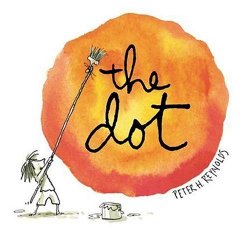 The Dot by Peter H. Reynolds
Classic Picture Book published by Candlewick Press
One of my favorite picture books, The Dot by Peter H. Reynolds will strike a chord with children, teens and adults who lack confidence in their ability to 'make art.' Vashti doesn't believe she can draw or does not want to draw. She sits through an entire art class but does not make a mark on her sheet of paper. Vashti's teacher is understanding and she encourage's Vashti,
"Just make a mark and see where it takes you."

Vashti grabbed a marker and gave the paper a good, strong jab. "There!"
Undeterred by Vashti's reluctance, her teacher asks her to sign the page. She does sign the paper and leaves the classroom. When she returns a week later, her 'artwork' has been framed and is hanging near to her teacher's desk. Upon reflection, Vashti decides that she is quite capable of improving on her first dot.
Before long, she is confidently experimenting with watercolors and larger sheets of paper. She creates an entire collection of artistic dots – every size and color.
A wonderful resource for children and adults who are reluctant to "make their mark." The Dot and Mr. Reynold's inspiring illustrations should not be missed.
Dot activities – from Peter H. Reynold's website
The Dot at Amazon.com
The Dot at Amazon.ca
Our Pinterest Board for The Dot by Peter H. Reynolds
Follow Storytime Standouts's board The Dot by Peter H. Reynolds on Pinterest.


International Dot Day