A Picture Book for Canada Day: Canada in Colours by Per-Henrik Gurth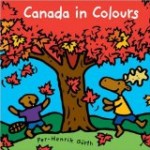 Canada in Colours
written and illustrated by Per-Henrik Gurth
Picture Book for Canada Day published by Kids Can Press
This vibrantly illustrated concept book depicts the colours of Canada from coast to coast. Mr. Gurth begins with a happy, snowy white scene and then takes readers into a lush, green forest. Vivid, graphic illustrations highlight the red sands of Prince Edward Island, the deep blue St. Lawrence River, parklands and dancing fields of sunny, yellow wheat. After sunset, he shows us a twinkling Big Dipper and shimmering northern lights.
A bold celebration of colors and Canada, Canada in Colours is suitable for toddlers and preschool-aged children.
Printable stickers from the publisher
Canada in Colours at Amazon.com
Canada in Colours at Amazon.ca
Canada Day is celebrated July 1st. Today we are highlighting our free early learning printables including our writing paper for Canada Day.

Writing paper for kids - Canada Day

Canada- theme interlined paper for beginning writers.
Storytime Standouts offers writing paper for (almost) every occasion, check out the entire collection by visiting our Interlined Paper page.