Classic Picture Book: Go Away Big Green Monster! by Ed Emberley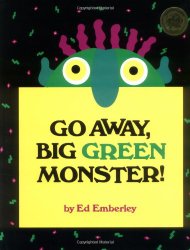 Go Away Big Green Monster! written and illustrated by Ed Emberley
Die Cut Classic picture book published by Hachette Book Group
Bold colors and clever die cuts highlight this simple, classic picture book for children aged three years and up. When we first meet Big Green Monster, we see only his large yellow eyes. A turn-of-the-page later and we are staring at his large nose and his eyes. Enthusiastic children will "read" along as white teeth, small ears, purple hair, and green face are added to the monster's visage.
But… YOU DON'T SCARE ME!
So, GO AWAY, scraggly purple hair….
A happy conclusion allows youngsters to ensure the monster disappears as quickly as he arrived. Great fun for all and a good opportunity to extend the learning by exploring colors and descriptive words.
Lesson plan from UNC School of Education – Describing Words
Scholastic Reading Club lesson plan
SMART Exchange lesson

Go Away, Big Green Monster! at Amazon.com
Go Away, Big Green Monster! at Amazon.ca
Check our Pinterest Board for Teaching Ideas and Ways to Extend Learning for Go Away, Big Green Monster!