Celebrating Individuality and Friendship – Up and Down by Oliver Jeffers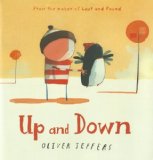 Up and Down
written and illustrated by Oliver Jeffers
Picture book about friendship and individuality published by Philomel
In Up and Down we meet two friends who do everything together. They enjoy making music and they love a good game of backgammon. All is well until Penguin decides that it is his destiny to fly. Without explanation to his best friend, Penguin embarks on a mission to discover the secret of flight. Boy is bereft – he can't understand his friend's sudden disappearance. It is indeed fortunate that Boy sees an advertisement for an upcoming circus performance involving a cannon and a very familiar face. Boy races to be there and to soften his friend's landing.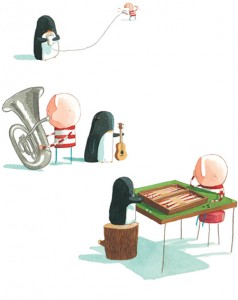 With a lovely message about friendship, individuality and celebrating one's unique abilities, Up and Down will be thoroughly enjoyed by children aged three and up.
Up and Down at Amazon.com
Up and Down at Amazon.ca
You may also be interested in our page titled "Diversity." We highlight picture books and chapter books that celebrate and inform us about human diversity including learning disabilities, physical disabilities, allergies, single parent families, interracial families, same sex parents, aging, death and more.
Don't miss our page of quotes about diversity.