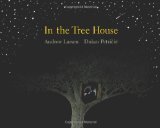 In the Tree House written by Andrew Larsen and illustrated by Dušan Petričić
Picture Book published by Kids Can Press
One of my favorite parenting memories involves snuggling with my sons and watching the Perseid Meteor Showers. When they were young, we scheduled an annual camping trip with friends so that we would be away from city lights and able to watch for shooting stars. I will never forget the experience of sitting beachside in a folding chair with one of my sons on my lap. We would wrap a blanket around us and wait. Most years there were eight of us searching for the dramatic streaks of light across the night sky. Each time a meteor appeared, there would be squeals of delight, "Oh, did you see THAT one?"
Andrew Larsen's In the Tree House tells of a young boy who is feeling the changes that time brings. He and his family move into a new house and, instead of sharing with an older brother, he has his own room. He misses having his brother in his room and he has trouble falling asleep. He uses his wakefulness to plan treehouses. He's excited when his brother starts drawing treehouses and he's thrilled when his dad agrees to make his dream a reality. It is not long before Dad and sons are perched up high, gazing at the night sky.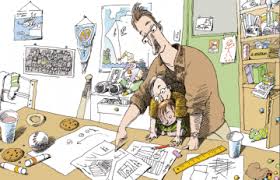 "Why arent there any stars?" I asked between gulps of lemonade.
"They're up there," Dad said. "We just can't see them,"
He explained how the lights from the city make the sky too bright for us to see the stars shine.
They boys love spending their summer in the tree house. They play cards and read comics and watch their neighborhood.
The following year, circumstances have changed. The older brother has new friends and they keep him busy. The tree house that was once magical now seems empty until a chance power outage transforms the neighborhood. In the darkness, the older brother returns to the tree house and the boys' special relationship is revealed once again – just as the utter darkness reveals a sparkling night sky.
In the Tree House is a shining tribute to the special relationship between siblings and the small, meaningful moments that make a world of difference.
Nominated for a (Ontario Library Association) 2014 Blue Spruce Forest of Reading Award
In the Tree House has also been nominated for a 2013 Children's and Young Adult Bloggers' Literary Award.
In the Tree House at Amazon.com
In the Tree House at Amazon.ca
Andrew Larsen on Reading and Writing Picture Book Dads from 49th Shelf